Quote of the day: "All the things I really like are either immoral, illegal or fattening." ~Alexander Woollcott
Song of the day: "Let it Snow" (I say that ironically. I'd like it to stop now, please.)
State of mind: Sluggish.
Date: December 21, 2008
A few days late, I know, but I guess that means my evil persona is The Procrastinator!
Putting off evil deeds today that could, er, or until
... oh forget it. I'll come up with a catch phrase later. Guess I'm kind of benign bad guy, but whatever. My evil outfit is pretty cool. (
PJs
.) And my evil lair is full of Lazy Boy recliners, so...
Right! The screening. Despite the weather the venue filled up with eager
ELoE
wannabees and Hammer groupies. My cohorts (ctheokas and aboleyn24) and I were able to successfully achieve maximum viewing exposure by choosing seats about five rows up from the front. And by successful I mean no one was sitting there yet. Actually, there wasn't a bad seat in the house. The chairs were comfortable if compact and once I got into the seat there wasn't much room for my legs let alone my winter outerwear, which would make getting up at the prescribed moment to stomp around as if I were a hulking Dr Horrible a bit difficult. Plus, the only thing I would have been stomping on was my coat and purse and I like both so I opted to keep my seat. A healthy majority however got up and squished imaginary foes like mad. But I'm skipping ahead.
After everyone was settled a short movie about the importance of the
Paley Center for Media
was shown. Unfortunately, no one was really paying attention. I tried. Honest. But I was too distracted by the combination of clips they were using. First the moon landing, then a cartoon, followed by a sports clip, a comedy snippet, and something from one of the major news networks. I know the Center is for
all
media but... huh? Of course, the fact that everyone was also playing with the things in the interactive goody bags that were passed out didn't help. Here's a Tip: don't give
Whedon
fans little toys if you want their undivided attention. Of the bags themselves, the contents were a bit thin but they were free so I shouldn't really complain.
It wasn't soon after the clip show ended that Arthur Smith from the Paley Center said a few words and then introduced the host for the evening, Clinton
McClung
. Although is someone really a host if they aren't the one putting on the production? I would say his participation in the evening was more as emcee than host. And a fine emcee he was. His monologue was entertaining as he described the event as a propaganda tour by the Evil League of Evil looking for recruits, and then gave a brief rundown of what we were to do during the show and what each piece in the bag was for.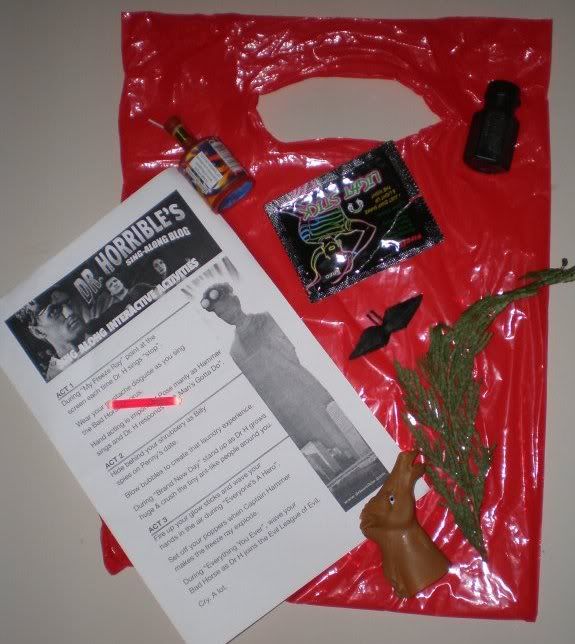 Bubbles for the laundry mat scene in Act II.
Bad Horse finger puppet to fiddle with the entire screening. Seriously. No one could stop playing with them.
"Firefly" glow stick to wave during "

Everyone's

a Hero".
Plastic mustache to be used while robbing banks, or whenever the Bad Horse trio would sing.
A Party Popper for when the Death Ray explodes in Act III. I didn't use mine, but only because I have issues with party poppers that date back to my childhood and that is they never ever work for me. So I kept mine as a memento instead.
Shrubbery (real) to hide behind while Billy spies on Penny and Captain Hammer on their date.
List of instructions which was a list of instructions.
I'm not super coordinated so my ability to remember I needed to be holding a certain thing at a certain time was a little off and I forgot to do most of it except wave my little (and I mean tiny) glow stick back and forth while Captain Hammer sang in the third act. Everyone else seemed to have no problem remembering what to do and almost all of the poppers went off on cue and filled the room with a lovely sulfur cloud and paper ribbons. Also,
Whedon
fans in and around New York have fantastic voices. Especially the trio that sat behind me. I didn't get their names which I regret now. I didn't sing, but not only did the majority of the crowd sing, they recited most of the lines as well. The one ad lib I did hear was at the end after...well, you know... and someone exclaimed, "Damn you,
Joss
!" which garnered first mutually sympathetic laughter and then applause. It did break the tension that we all felt, despite the fact almost all of us had obviously viewed the entire thing multiple times and knew what was coming. But if Dr Horrible ever becomes available for more screenings (*fingers crossed*) I wouldn't want that to be a regular part of the show. *Edited to add: I was reminded of another ad lib by a few people in the audience, right before probably the most talked about line in the show. "The hammer is my penis." In the pause between Captain Hammer taunting Billy with his plans for the evening and that line, a few called out, "What is the hammer?" Hilarious. Reminded me of, "What's your favorite color?" and the responding, "Magenta" during the Rocky Horror Picture Show screenings. Hee. "Great Scott!" *Throws imaginary toilet paper at the imaginary screen in my head.* Good times. Ok, back to last Friday...
Clinton had asked if anyone in the audience had not yet seen Dr Horrible and I only spied two hands raised. They certainly chose an interesting venue to watch it for the first time, and I did try to keep an eye on the one man who was in the same row as me during the entire screening and am happy to say he seemed to enjoy himself immensely. But as the show went on I wondered if any of the story would be diminished for the newbies by our singing and reciting along. Would the jokes be ruined? The nuance of each performance overwhelmed? Judging by his reactions I'd say my concern was for naught. And I must point out that although I have seen
Dr

Horrible's

Sing Along Blog
quite a few times, there were small moments that were lost on my computer. Specifically in Mr.
Harris's
case. It would be a facial tick here or pause there that really
benefited
from the larger screen and again I am awestruck by just what an awesome job he did. Can we give him a
Webby
Award or something?
Unlike the
LA screening during Halloween
, only one person dressed up in character: as Doctor Horrible. It was a well put together costume and from the look I got he didn't seem to have skimped on the details. I did see a few official Jinx shirts. I spotted one Captain Hammer t-shirt and one of my cohorts wore her Doctor Horrible logo tee. Me? Uh, I dyed my hair Penny-
esque
red... but other than that, I had no costume.
During the screening I did notice that certain songs got more participation than others. Some just aren't made for actual singing along. Like the final song by Doctor Horrible as he loses Penny and finally joins the
ELoE
. At future screenings, it would be interesting if the audience was instructed before hand that the ladies were to sing all of Penny's songs and the
fella's
stick with Doctor
Horrible's
and Captain Hammer's, with the exception of "
Everyone's
a Hero" where everyone should join in. I'd like to hear an audience wide duet during "On the Rise" and "Man's Gotta Do". And I'm hoping that the DVD commentary will have a suitable song for everyone to sing over the credits, since the ending isn't exactly a huge upper. (Hurry up, Amazon!)
But we all left smiling and laughing when it was done. It was a great night and I enjoyed my self
muchly
. And I'm still finding party popper string on my cloths, even though I've changed at least 4 times and showered twice since then. How is that possible?
I am glad to hear that the Horrible team is working on a way to make further screenings possible. I already have a few thoughts for an evening.
For instance: Keys. To wave when Dr Horrible sings about giving Penny Australia. It's better than trying to wave Australia around. It's kind of heavy, I bet. Or a flashlight when Billy is walking down the street during "On the Rise" since I think we've all heard
Joss
talk about the sun going down while they were filming and that was all they had to get the shot. I think that needs to be honored. Lacey wafting curtains. Water guns to shoot H2O into the air whenever Moist enters the room. (But, it should be noted that squirting water directly at your seat mates would be greatly discouraged. He's Moist, not Soaking Wet.) Captain Hammer's hair. A receipt for 4 sweater vests. One lovingly drawn photo of Doctor Horrible to hold.
Sporks
.
Ect
.
I even have a theater in mind...
Show quote of the day: "Come hell or high water I'm going to free that dog."