Quote of the day: "Houston. We have a problem." ~James Lovell
Song of the day: Hat Shaped Hat by Ani Difranco
State of mind: tired, followed by giddy, followed by hurt and pissed off.
Date: This happened on Nov. 17, 2008 Posted... later.
I'm feeling a little stupid right now and I'm not happy about it. As I may have mentioned before I have a twitter account, which I love. Instant 140 character updates from people all over the globe! Awesome. I knew about the last earthquake in California only seconds after it started thanks to a few people on my account that had the bad luck to be on top of it, but despite the fact that the Earth was moving below their feet in jarring motions, they decided to tweet the event. Mostly in all caps. (Like I wouldn't.) The news of the earthquake didn't hit MSN for almost another half hour. Not awesome for the people there, but knowing about it instantly was.
On my account I have several NASA sites, including the Mars Rover that just went quiet after its months long mission on Mars. (It found ice.) There was just something special about seeing a tweet with a link to pictures taken by a little robot on another planet. I know that the tweets themselves were coming from a person here on Earth, but it felt like I was getting updates right from that plucky little rover and it made my geek heart swell. And when it finally stopped sending messages back to Earth I'll admit I was a little misty. I'm going to miss that lil' guy.
Anyhow, right now there is another NASA mission going on above our heads on the International Space Station which the shuttle Endeavour docked with to deliver supplies, and when I saw that they apparently had twitter accounts as well I couldn't follow them fast enough. The tweets themselves seemed to be a bit more personal than other NASA accounts, but I figured it was because the astronauts themselves were excited about the instant communication with civilians while they were in space so I brushed off the oddness of it.
However today*, I get to work and log in as I usually do and see that the shuttle Endeavour has a link up to watch them in space as they are performing some task with multiple capital letters. A MMLPV or MMRPG or ... whatever. It's in space, so it's just freaking cool to watch live no matter what it was they were doing or what letters they used to describe it. Plus, you could chat with them too. No freaking way. My brain almost exploded. And so I posted as my inner geek squeed, while my other person that doesn't want to get fired acted like nothing odd (awesome) was going on: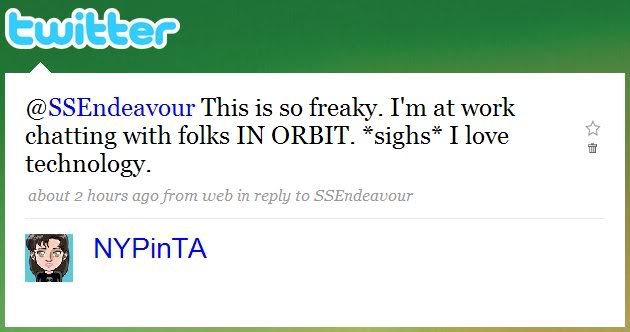 I logged into the chat, made a few jokes (shocking, I know), and for a brief moment felt like I was on the edge of a new world. A world were highly trained scientist that are manipulating million dollar equipment will take the time to say "hi" to whomever is willing to watch. Can you imagine? Communication by a regular Jane like me with someone actually IN SPACE? Sure, this would someday be a regular occurance, (I hope), but it was new to me. I felt like a pioneer. All while seated at my desk.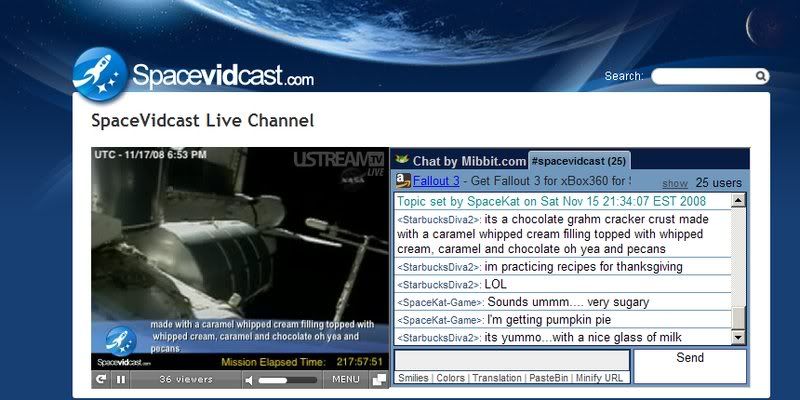 And while in the chat, they responded to me on Twitter: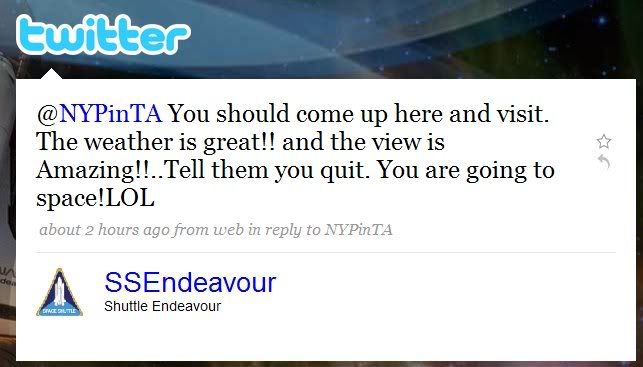 I, NYPinTA, was just invited into space.
Naturally I played it cool: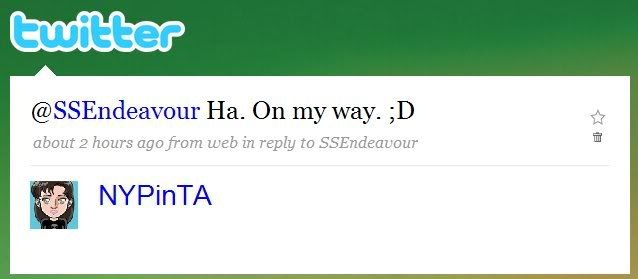 However, my geek joy was squished when someone pointed out that the two accounts that I thought were the people on the shuttle and space station weren't linked on NASA's official twitter account like all the rest of their various NASA accounts were. And that the "live feed" from the space station seemed to be just looped to a different site than the official NASA TV site.

Well, crap.

Those two accounts I had been chatting with were total fakers. Liars. They stole my hope for the future; a bright and shining future with gleaming buildings, flying cars, and cloths made out of smart fabric that will regulate heartbeats or alter tempature to keep us warm or to cool us down when it was too hot. But it doesn't matter, because that world was gone. It was replaced by a world inhabited by the punks that were pretending to by astronauts having fun with a new communication tool.

Asshats.

Of course, I should have wondered when the they actually used "LOL".

The Pretenders:
Show quote of the day: "Whip me, beat me, take away my charge cards... NASA is talking!"