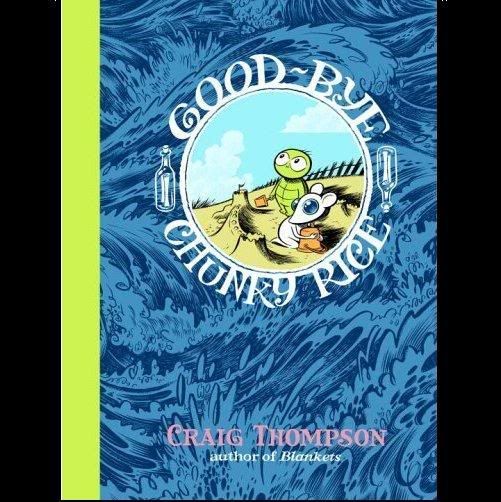 I'm not sure how to start this post. Yesterday I got home from work and sitting on my footstool was an amazon.com box. Nothing unusual about that. I even have an amazon.com credit card. But I hadn't ordered anything. And it's important to know my frame of mind at the time this unexpected box arrived. Not good. It hasn't been good for a while now. Why? Life is annoying. Not bad. Not a waking nightmare. Just annoying. But annoying enough that my soul is starting to get tired. But then I get a box. (Actually, it was my second. At work that day was a box of cookies on my desk.) This box baffles me however. Did I order something? Was it a preordered item that finally came in?
Neither.
It's a book I had never heard of. At first I thought it was a mistake till I see the message on the invoice. A friend, who isn't on this blog, sent it to me.
Good-bye, Chunky Rice.
It's a graphic novel by Craig Thompson about a turtle that decides he must move on and leaves behind his best friend, Dandel. Along the way we meet a fellow boarder that lends a hand getting Chunky Rice to the docks and on a boat captained by his brother Chuck, and his passengers, a pair of conjoined twins.
I'm not sure how to describe the book. It's short. Drawn in black and white. And it made me cry. Kind of a lot. So, if you're looking for a book that has emotional impact, this is the one for you.