Date: 12/30/07
Wow. Only a few days left of 2007! Good ridance! This year kind of sucked. But, I did get to go to a few interesting places and met up with some interesting folks. (And yeah, I mean Joss Whedon again. So. Freaking. Cool!!) To cap off the year, I went with a co-worker and her speed walking family to New York City to see Cirque Du Soleil's show
Wintuk
at the WaMu Theater in Madison Square Garden.
I've been to NYC a few times and all but once I've taken a bus down; usually chartered for a specific purpose. For this trip I had to get up an hour and a half earlier to make sure I made it to the stop early since I had never been there and wanted to give myself time in case I got lost- which was a good thing since I only made two wrong turns thanks to crappy directions from another co-worker. I figured I could catch up on my missing zzzz's on the bus, but I didn't sleep. I don't know how people can do that. Instead, I watched the on bus movie,
Dreamer
with Dakota Fanning and Kurt Russell. It actually wasn't bad. (Must have been the sleep deprivation.)
After about 3 hours we got to the city: It was a windy day in the Big Apple and the streets were packed, and I loved almost every second of it. First stop, we went to FAO Schwartz so the girls with us could oogle really expensive teddy bears. It was crowded, but fun. They even have a couple of guys to play chopsticks on that huge floor piano a la Big. I picked up a Buddha Board for 8 bucks and considered spending much much more on toys for a friend of mine's new baby boy. I didn't. I'll order him something off Amazon later.
Outside of FAO Schwarz is the storefront for Apple. I had to take a picture: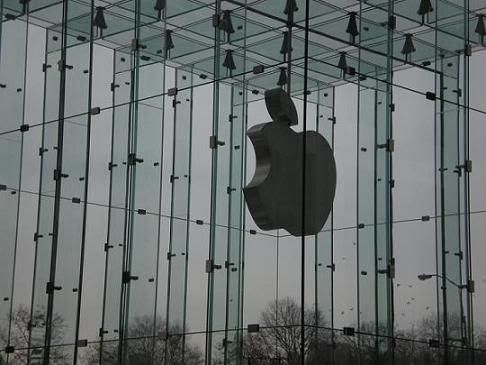 After FOA Schwarz we stopped in to Tiffany's. This is the big girls toy store. It looks pretty much just like it does in the movie except it has a whole lot more tourists in it. I didn't have the heart to even ask how much anything was. After that we moved on to Sax's Fifth Avenue and looked at really expensive dresses that I didn't think were worth a fraction of a fraction of the price. 2000 dollars for a sun dress that I could make out of a pair of sheets? Uh, no thanks.
Then, lunch. Found an Irish pub and had a salad with grilled shrimp on top. Yummy. While we were eating, a Chinese luck dragon walked by outside. Interesting.
Somewhere along the way, we walked by Rockefellor Plaza and I totally missed it. I still have no idea how I did that. Must have been looking at something else.
By that time, we figured we'd better head back to Madison Square Garden so we would make it to our seats before the curtain went up. After a few blocks, we decided we should take cabs the rest of the way and my co-worker grabbed us two in the middle of Times Square.
Before we zoomed off, I took a picture: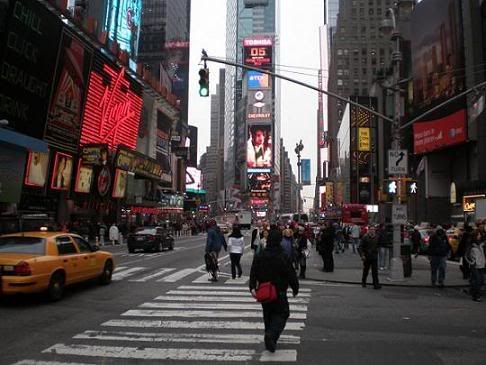 We arrived in plenty of time but then ended up walking around the stupid block trying to find the entrance to the WaMu Theater. Eventually following the crowd, we made our way in and got to our nosebleed seats and had a few moments to relax before the show started.
Wintuk was... ok. I love Cirque du Soleil so I was really disappointed to not be blown away by the acts in this show. It's the story of Jamie, a city kid who thinks that there is something missing from the winter season and goes on a journey to find snow. I don't know if it was supposed to be a comentary on global warming or how kids have no idea how snow is actually a pain in the ass. The first half of the show was very urban. Lots of roller blade tricks and bike stunts. They used a garbage truck motif to clear the stage for another act, which was cool but the show was taking place in a city. This countries largest. I'm pretty sure most of the audience have had enough of garbage trucks and trickey bikers and would have prefered a little more fantasy from the show. I know I would and the city I live in is pathetic and tiny in comparison. The second half of the show is what the entire show should have been. Jamie and other characters make it to a magical land somewhere up north and the acts were fantastic, mystical, and wonderous. The show ended with blowers in the ceiling shooting tissue paper snow flakes on the entire audience. Nice trick. But it didn't make up for the first act.
After the show, we headed back out into the teeming throng of whoever was in the city that day, and I'm guessing by the various languages and accents that most of the people on the street were out of towners as well. We decided to stop into Macy's and I hated it. How can people shop in that store if stopping to look at an item means causing a traffic jam involving hundreds of other people? I hate shopping in crowded stores. I just won't do it. We were there to look at dresses for my co-workers oldest daughter. Luckily, she's a fast shopper because near the end of our time in there, I was really starting to feel a bit claustrophobic. Or it was the perfume counter cloud that was getting to me. Whatever it was, I wanted out. Besides, I've been to Macy's NYC before. (Bought a headband.) It's pretty much the same as the one in my local mall only older. And more crowded.
Stopped on the way back to the bus stop, got some pizza. (How could I not?) Then sunk back in my seat for a drowsy ride home. That was, until the driver decided to play
What About Bob?
I thought I had successfully avoided that movie. Next time, I'm taking the train.
Last picutre as we were driving away:
Show quote of the day: Don't got one. The writers are on strike. So, until the strike is over, I'll skip this part.