Quote of the day: "Death is nature's way of saying, 'Your table's ready'." ~Robin Williams
Song of the day: none
State of mind: eh
Date: 8/9/07
Two things: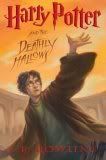 1) I am selling my copy of
Harry Potter and the Deathly Hallows
. I intended on selling it much sooner, but my mother decided that for once in her life reading a book was going to take two freaking weeks. Plus, she got a grease stain on the front. *sigh* Well it's still up for sale, just not for as much. So… if you know anyone looking for a book that they don't have to be too careful with, I've got what you need!
Edit: SOLD!
2) Tomorrow is another
Firefly
marathon on the Sci Fi channel. Just an FYI for those of you who haven't yet gained the wisdom to have purchased the DVD set of the show for yourself. You have only yourself to blame, since I'm pretty sure I've mentioned it enough times.
Well, that's it for today.
Oh, and
The Bourne Ultimatum
was the ultimate in car chase/ass kicking goodness. Next week:
Stardust
!
Show quote of the day: "But I don't want to go among mad people!"