Quote of the day: "My name is Marc, my emotional life is sensitive and my purse is empty, but they say I have talent." ~ Marc Chagall
Song of the day: "Miss Murder" by AFI
State of mind: delusional
Date: July 26th, 2007
I've decided to try my hand at drawing. I bought some pastels and a sketch pad and have plenty of ideas in my head. The thing is, I can't draw. Seriously. I'm awful at it. Except the folks at work don't know that. A few months ago I was having a drawing contest with one of the service writers. I think it started with Halloween and the pumpkin I drew on my calendar. It wasn't bad actually. So he drew one. (It sucked.) Then he challenged me to draw a turkey for Thanksgiving. Because I don't like to lose, I cheated. I found a cartoon turkey online, printed it out, and used it to trace the image on my calendar and used my highlighters to color it in. I did the same thing for Christmas with a fantastic Santa and I did a free hand Christmas tree that looked pretty damn chic. The service writer was getting trounced by my cartoons every month. Poor kid. By the time St. Patricks Day came around, he stopped challenging me.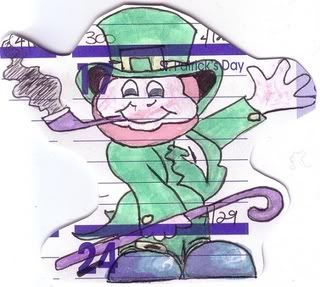 Too bad he never knew the truth. I'm a cheater.
Show quote of the day: "...I can't handle these intense inter-personal things like that, you know? I'm English. I need to try and keep it down, keep it locked, inside, like we do. I mean, how else are you going to develop cancer?"