Quote of the day: "I like long walks, especially when they are taken by people who annoy me." ~Fred Allen
Song of the day: "Show Me How To Live" by Audioslave
State of mind: Happy, frustrated, cautious, annoyed... typical.
Date: 4/22/07
I'm like Garfield: I love lasagna, taking long naps, occasionally I have red hair, and I hate Mondays. That was until
Drive
and
Heroes
. Now I have something to look forward to after the sun has set on another wasted weekend and I must once again drag my sorry butt to work for 8+ hours of paper pushing and zzzzzzzzzzzzzzzzzzzzzz. But once the day is done I get to come home and snuggle in for two hours of giddiness inducing TV. And as a bonus
Digging for the Truth
will be on at 10:00 PM with a two hour special about Atlantis!
The TV gods smile on me. It's about damn time.
In other news, I don't think I like taking classes online. The classes are fine, but you have to log in for the seminar which is in a 'chat room'- a format that I haven't bothered with since I got my first computer in 1997 and still had an AOL account. A question is asked and then everyone just types in their response and it feels like everyone talking at the same time. It's annoying. They couldn't come up with a better way? A chat room/bulletin board hybrid of some kind? And you are given 'reading' but of course you don't get a book so it's all online and not linear like a book. A paragraph, then a link, then you have to come back to the original and read another paragraph that has a link... etc. You'd think with all the time I spend online it wouldn't be a problem for me, but with something like an assignment, having it in a book where I can actually see how far I've gone and how far I have to go makes it easier for me to feel like I'm actually doing something. It's like being able to check things off on a list. If I can't see the list, it's like the things I've done don't count. So, I don't get it all done. I read a little, think of something else, follow that thought instead, get distracted, try and come back to it, play a game of free cell, get a drink or something to eat, try again to read everything, get frustrated, scroll down and skip ahead, try writing things down to keep track of it all, wonder what the hell I'm actually supposed to be doing, remember things I have to pick up at the store, take a break, do laundry, get annoyed because I'm not getting 'the reading' done and try it again! I don't like my brain.
During one of the breaks I took included trying to watch a DVD. I have one that was lent to me by a co-worker and three Netflix DVDs that I've been ignoring for some reason. I decided today to watch at least one. First I tried the borrowed DVD and discovered it is of the extras and not the movie. Next was Netflix DVD #1 and it would play because it had a large crack in it. I was starting to get frustrated. Finally disk #2 from Netflix loaded and played fine so I watched a few episodes of
La Femme Nikita
, ate a few cookies, and gave myself a pedicure. Garfield would have been proud.
For LL:
For me: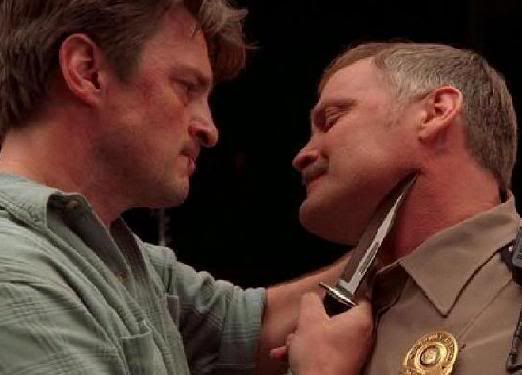 P.S. Henry says hi to everyone and promised me that for Earth Day he wouldn't litter for a whole two days! Wow. Two days. What a trooper.
Show quote of the day: "Bat's breath!"