Quote of the day, (as relayed to me just hours ago by Rob. When I steal something, I don't wait around.): "Mystery has its own mysteries, and there are gods above gods. We have ours; they have theirs. That is what's known as infinity." --Jean Cocteau
Song of the day: "Delicious Surprise" by Beth Hart
State of mind: distracted
Date: 2/10/06
I saw this as a pop up the other day somewhere and I just had to post the question here.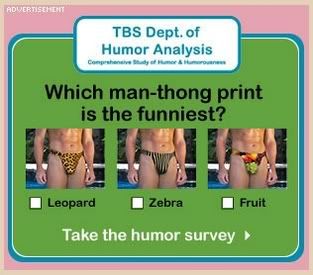 So, in everyone's professional opinion, which man-thong is funniest? My vote? The word "man-thong".
In other news, I can't hear out my left ear that well again today, which made getting my lunch at the drive-thru a little bit of a leap of faith that they heard me right. Not that you can understand what the hell they are saying through that PA menu system anyhow. At least I'm not speaking into the head of a giant plastic hamburger.
In other other news, on Monday I will officially spring into action on my very vague thing that I'm not giving any details about. Wish me luck!
Lastly: Dear protesters. We are not Denmark. Please stop burning our flags because of that cartoon. You cheapen the burning of the flag at other protests. Thank you.
Angel FINAL quote of the day:
Angel: Well, personally, I kind of want to slay the dragon.