Quote of the day: "Welcome to Democracy, bitch." ~Jon Stewart
Song of the day: "No Leaf Clover" by Metallica and the San Francisco Orchestra.
State of mind: discombobulated
Date: 12/30/05
I got a free breakfast, I parked in spot #42, and I'm wearing socks with monkeys on them. If I don't have a good day it isn't my fault!
I guess Rudolf isn't having such a great day. If you're a kid on the naughty list all you get is coal. Guess the standard is a little bit tougher for the reindeer.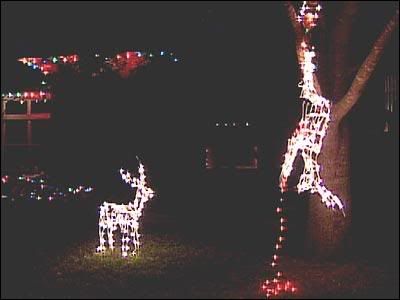 Yesterday wasn't that great for me. I had to go to the eye doctor, because my vision sucks, and they did the same kinds of things to my eyes that the vet has been doing to my cat for the past few months. I couldn't help but laugh thinking how much my cat hated this stuff and here it was being done to me. It did ruin any sympathy I had for the fur ball though.
They had to dilate the pupils of my eyes for one test, which was annoying as hell. At least this time I didn't have to drive home on a sunny day, but driving home at night during rush hour traffic in the rain with my eyes all wonky wasn't that much fun either.
So now I have three sets of eye drops to put in. Bet my cat would get a kick out of that, if he had a brain big enough to enjoy the irony.
Just to end the year on a good note, the "Hottie of the Year" kudos go to: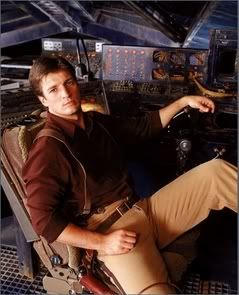 Congrats, and Mr. Fillion, you can pick up your award at my house. ;D
Happy New Year everyone. My only resolution is to stop being so easily distracted while at... oh look... lint!
Angel quote of the day:
Andew: Spike? It's you. It's really you! My therapist thought I was holding onto false hope, but...I knew you'd come back. You're like...you're like Gandalf the White, resurrected from the pit of the Balrog, more beautiful than ever. Oh... he's alive, Frodo. He's alive.