Quote of the day: "Right now, ole' Boss is happier than a hog knee-deep in slop." ~ The Balladeer of Hazzard County.
Song of the day: "Little Red Corvette" by Prince… and I don't know why. Its just there, stuck in my head.
State of mind: a tad nostalgic
Date: 11/4/05
Last night, despite that fact that I haven't watched this show in the past few seasons, I just had to watch
Smallville
. Why, you ask. Tom Wopat. Some of you may remember him during the glory days of TV as one half of the dynamic duo on
Dukes of Hazzard
. I loved that show. (I was 8.) I loved the car, I loved them always getting away with whatever good ol' boy fun they were having, and it was a nice little show about disobedience, illegal alcohol, and driving really really fast. Good family fun. John Schneider, the other half of that duo plays Jonathan Kent (Clarks soon to have a heart attack father) on
Smallville
, so having Tom Wopat on was definitely stunt casting of the giddy, glee inducing kind. Luke, er I mean Tom even drove a Dodge Charger. Sure, it was blue, but
Dukes of Hazzard
fans know what it means: "Nudge, nudge. Wink, wink. Hey you in the audience! It's the General Lee… incognito! Look. See how clever we are? We painted him blue…"" Ha! I was giggling like a geisha girl. It was a fun episode. (Re: No Lana.) But it got me thinking in a 'remember when' sort of way… and oddly, about things we used to have on our walls when I was a kid.
One thing that immediately stood out in my memory was this print my dad had brought home from work one day when he was working at City Hall. They used to have small showings in the lobby for NY based artists, and one year it was TE Breitenbach's year. He had painted a picture called "Proverbidioms" and the city bought a bunch of posters to sell. My dad snagged one for free and it hung in our kitchen for years.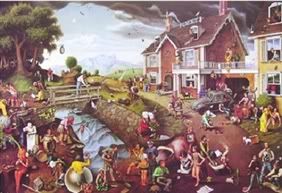 Here are a few choice bits blown up: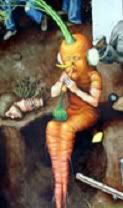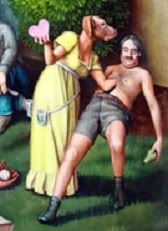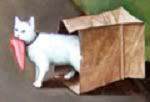 I hated that painting. It was creepy, especially to a fun loving 8 year old. It was supposed to depict a thousand different proverbs in a visual format and all of the proverbs were listed under the painting so you could make a game out of finding them all. I thought it was a new and twisted version of hell. I'd look at that picture and just imagine what sheer torture it would be to have to live in a place like that. Still sends shivers up my spine. But I still wondered where it went, even though I hated it so much. Strange the things you miss when you don't have them anymore.
Also in this vein of nostalgia, I got another catalog the other day and in it was the DVD of seasons 1 & 2 of
The Tomorrow People
! I loved that show when I was a kid. It was most definitely not a twisted version of hell. I watched it on Nickelodeon in the 80's and I would dream of having a computer like TIM. (Later I dated a guy named Tim. Hmmm…. Wonder what Freud would have to say about that. My ex was as dumb as dishwater, so I don't think I was trying to fulfill a TIM the computer wish. Whatever.) Anyhow, the show was great (to an 8 year old) but I am very reluctant to get the DVDs or even rent them. I bet it'll be cringe worthy and I'd like to keep my positive memories of the show. (I had a crush on John and I don't really want to discover if I had really bad taste in boys back then.)
So, there you go. The good and bad and ugly of my childhood. Well, sorta.
Angel quote of the day:
Wesley: Oh, you have a problem with a little torture now? Seem to recall a time when you rather enjoyed it.