Seven Answers to Seven Questions:
Seven things I plan on doing before I die:
1)Learn french. (still working on it)
2)Finish my cross-over fic.
3)Get a passport.
4)Use my passport.
5)Cause an international incident.
6)Buy a house.
7)I'm leaving this one open because if you have a plan, something divine likes to screw with you. Or laugh. In my case, probably both...
Seven things I can do:
1) DMV Paperwork. Aren't you jealous?
2) Play a game of Free cell and win it in under 2 minutes. Almost always.
3) Surprise myself.
4) Annoy generic_screename, aka John
5) Go to the movies alone. Some people can't.
6) Sleep past noon. (It's a gift.)
7) Read upside down. The words, not me.
Seven things I cannot do:
1) Give a pill to my cat.
2) Sit in a church without giggling.
3) Play piano
4) Hate Jon Stewart
5) Snap. (No kidding)
6) Talk on the phone and watch TV at the same time. It's the one multi-task I have not mastered.
7) Resist chocolate
Seven things that attract me to another person:
1)Well, looks. Duh. But without the next 6, forget it.
2) The capacity for infinite patience. They'll need it.
3) Hefty lotto winnings
4) Sense of humor
5) Smell nice
6) A willingness to laugh at my jokes
7) Generosity
Seven things I say most often:
1) What were they thinking?!
2) I hate insurance companies.
3) Why is there a weeble wobble on the oven?
4) Cat! Knock it off!
5) What? (Usually when I am trying to talk on the phone while the TV is on.)
6) Damn brat.
7) Polyester, baby!
Seven celebrity crushes:
Don't you people pay attention to my 'hotties of the week'? Sheesh! Well, to recap (in no particular order):
1)Nathan Fillion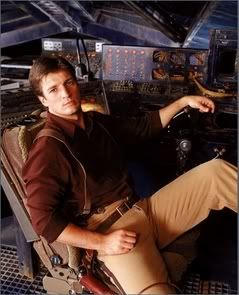 2)Ewan Macgregor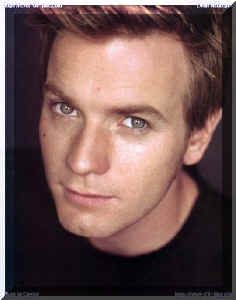 3)George Clooney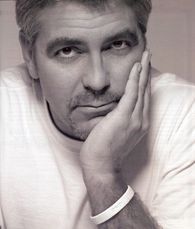 4)Peter Wingfield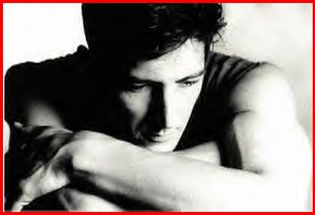 5)Sean Maher, or more precisely, his abs. Watch "Objects in Space", the last episode of Firefly. You'll see. (see picture two posts below.)
6)Viggo Mortensen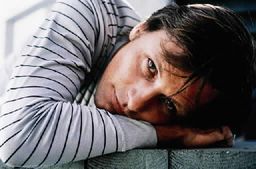 7)Johnny Depp (because he is so very pretty & yet very very odd.) No picture. He hasn't been my 'hottie of the week' yet.
Seven bloggers I am tagging
1)
cali
2)
stellar
(not that I actually expect him to post or anything.)
3)
Steve T.
4)
Lucy
5)
Ben O.
(even though he is new. ;) )
6)
fox
7) Anyone who wants to do it.