Quote of the day: "Que la Force soit avec toi." (May the Force be with you, in French.)
Song of the day: "After The Flesh" by My Life With The Thrill Kill Kult
State of mind: somewhere else
Date: 8/16/05
I've decided to learn French. I bought CDs and everything. I was listening to them last night, and maybe it is because I am unaccustomed to the French language, but I think they hate consonants over there. I was following along in my book as they were speaking and there would be a sentence consisting of seven or eight words, but on the CD it sounds like just three. I swear! The only time I heard a consonant was at the beginning of the sentence or in a person's name. Maybe I got the French For The Un-enunciators. Or the drunken slurry version. Must be all that wine they drink.
And speaking of Vanna White, here is a bit of trivia about me: I went to my High School prom. Oddly, it was the only 'school orientated' thing that I did in my four years there, but I went. The dress I wore, (that I spent hours looking for because I, as a metal head, had an image to uphold and did not want to look like a dork), was the same dress Vanna White wore on Wheel of Fortune a week before our prom. I don't think anyone noticed. At least, I hope not.
Back by popular demand (by me)! Hottie of the week!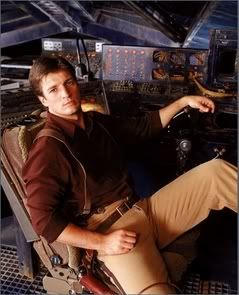 Soon to be seen in a theater near you! September 30th. Mark that date! ;P
Angel quote of the day:
Cordelia: Trust me. Tacos everywhere.