Quote of the Day: "Opera is when a guy gets stabbed in the back and, instead of bleeding, he sings." ~Ed Gardner
"Music is essentially useless, as life is: but both have an ideal extension which lends utility to its conditions." ~George Santayana
Song of the Day: "Queen of Hearts" Juice Newton
State of mind: hectic.
Date: July 1, 2005
I love lyrics. One of my favorite things in the world is learning all the words to whatever song I am fancied with at the moment. Last night I was watching Baby Hit Me One More Time (which is a phrase I cannot hear without hearing Britney Spears's voice… damn her) and on the show was Juice Newton singing her early 80's hit "Queen of Hearts," which is the first song I ever learned all the words too; a fact of which I am still proud of to this day. She sings quite a few bits pretty darn fast too and I was only 8 when I memorized them. The fact that I frequently memorize lyrics probably also explains why I don't have much room in my head for stuff I actually need...
Way back in High School my… hmm… obsession for lyrics got me both good and bad attention. Fellow classmates marveled when I had put all the words to "Stairway to Heaven" on my art portfolio and once I got called to the guidance counselor's office because of lyrics to Metallica's "One" made my trig teacher think I was going to off myself. I hadn't finished the words, so I can understand how they might be a bit misleading. But it took me at least an hour to convince them the song was about a soldier getting all his bits blown off and not my desire to be dead. "But why this song?" she kept asking. It was the last one I heard before class! She was skeptical, but since I am still around we know who was wrong, don't we?
Bands and artists that I think have really cool lyrics include: Tool, The Who, R.E.M, Matchbox 20, & Fiona Apple, just to name a few.
Also, I am such a dork. I didn't realize that the 4th was this Monday and didn't realize that I get a 3-day weekend! Come Monday, I might have driven to work wondering why there were so few cars on the road and then gotten supremely pissed when I got here and found the place all locked up!
My mother sent me these images via e-mail. So, if you think your job sucks...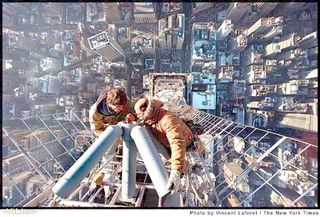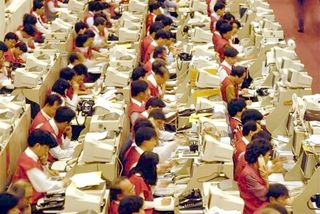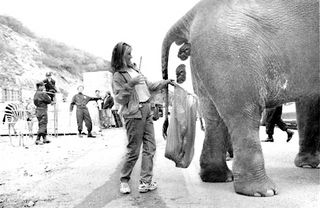 I might have to take one of those jobs if this article correct.
Uh oh!
Angel quote of the day:
Wesley: I've been accused of a great many things in my time. But paranoid has never been one of them. Unless people have been saying it behind my back.
Happy Fourth of July!!