Quote of the Day: "Failure is not an option." ~Ed Harris, Apollo 13, because Gene Kranz was supposed to have said it back in 1970, but he didn't. Ron Howard made it up.
Song of the Day: "In the Light" by Led Zeppelin
State of mind: kind of melancholy
Date: 7/13/05
Well, good luck
NASA
on the launch today. But why the 13th? I mean because the last launch done on the 13th ended soooo well. ;)
I don't have much else to say today, so I'll just put up another 'hottie of the week' Mr. George Clooney. (I chose him because I watched Out Of Sight last night. Good flick.)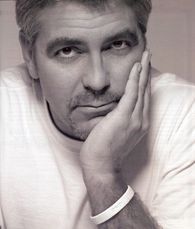 Angel quote of the day:
Cordelia: Why is it always virgin women who have to do the sacrificing?
Wesley: For purity, I suppose.
Cordelia: This has nothing to do with purity. This is all about dominance, buddy. You can bet if someone ordered a male body part for a religious ceremony the world would be atheist like that!